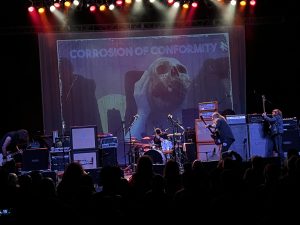 This triple bill did not disappoint.  CoC opened with a 45 minute set.  Tight, well received. First show for the band in 2 years.  They were totally pumped and into playing live again.  The set climaxed with Clean My Wounds which rocked!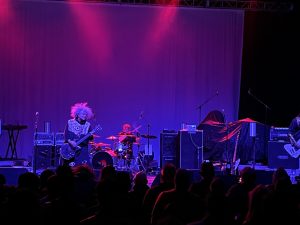 Melvins – Buzz came out in a cosmic MOO MOO and his kick ass looking King Buzzo polished alluminium guitar… Played any intense set finishing up with THE BIT…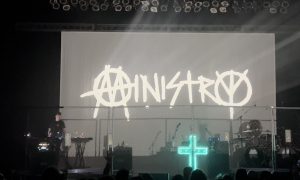 Ministry – Ok, so their setup was included more strobes than expected, a 8 foot chain linked fence across the front of the stage and a huge projection screen…  Opened with Breath, hit some of my favorites such as Stigmata, N.W.O and finished with a Iggy Pop cover of Search and Destroy which appears on Ministry's new record.
Now I will say with all the attention of live shows being live these day, I do have to say, I am not sure how much of Ministry is live… I think it would be incredibly hard to re-create some of their stuff without using tracks… Some drum tracks, some singing, It really felt like a lot of lead vocals we primarily a track and he augmented with a live mic.
I enjoyed the entire night with my best bud C.B.S jr.  😉